.
Medsmotion's symposium is coming!
[ujicountdown id="Deadline Registrasi Gelombang 1 Medsmotion 2015″ expire="2015/11/29 08:00″ hide="true" url="" subscr="" recurring="" rectype="second" repeats=""]
Mark your calendar and join the event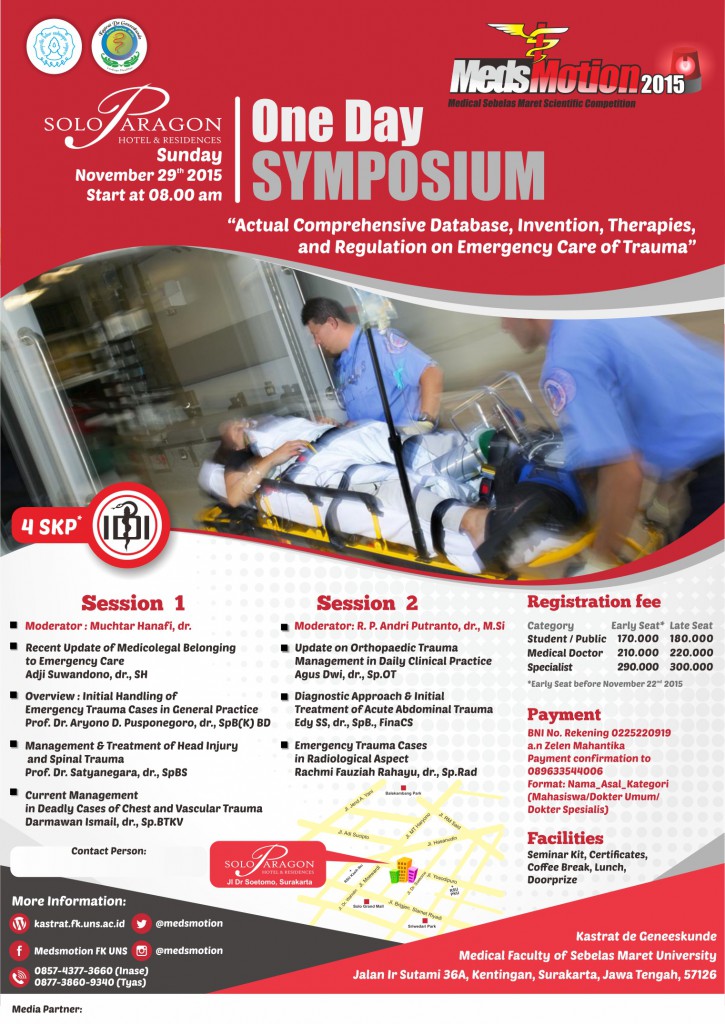 .
One Day National Symposium "Actual Comprehensive Database, Invention, Therapies, and Regulation on Emergency Care of Trauma"
on November 29th, 2015
at Solo Paragon Hotel and Residences
Facilities:
4 SKP IDI
seminar kit, certificate, coffee break, lunch, doorprize
Early registration fee:
Student/Public: 170k
Medical Doktor: 210k
Specialist: 290k
*late seat: early fee+10k
early seat before November 22nd
Payment:
BNI no rek 0225220919
a.n Zelen Mahantika
Payment confirmation to 089633544006
format: Nama_Asal_Kategori (Mahasiswa/Dokter Umum/Dokter Spesialis)
More Information:
fanspage: Medsmotion FK UNS
twitter: @medsmotion
instagram: @medsmotion
085743773660 (Inase)
087738609340 (Tyas)
.
.
Always update with us: